Buy Celexa Online
Phentrimine Without Prescription
Celexa No Prescription
Ultram For Sale
Elavil Generic
Buy Glucotrol Online
Lotrisone Without Prescription
Toprol XL No Prescription
Cipro For Sale
Lipitor Generic
White Album: The second episode is some improvement, but probably not enough of one to convince me to continue watching this series. I guess I should've known better after the first.
Ride Back:  Definitely a well-executed enough first episode to make me want to continue watching. The CG isn't terrible, though it isn't a completely seamless integration either. The setting seems to be setting up for social commentary down the road, which should be fine if the writers can keep from going overboard with it. I also liked how Ride Back doesn't try to cram introductions of all the main characters into the first episode; only the main character and her roommate are mentioned by name, allowing the viewer to be convinced that the fictional world existed before the viewer started watching. I might even consider picking up the manga. This is my favorite show of the season so far… though that really isn't saying much, considering its competition.
Maria+Holic: Pretty much more of the same as episode one. Shinbo-ism is starting to get on my nerves.
Sora Kakeru Shoujo:  Still solid. There's a lot going on but it's being managed pretty well. Some of the character designs are awkward. Overall, the show seems pretty decent, except: HOLY FUCK THE OP OH MY GOD MY EARS I HOPE THEY STILL WORK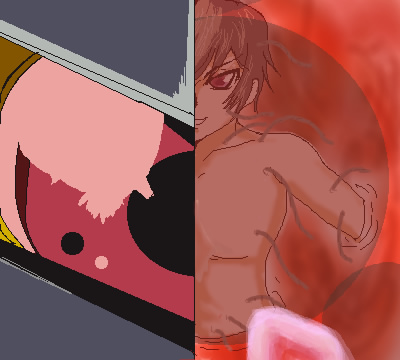 —
Some still ongoing/recently finished stuff:
Clannad After Story: It's not common for a show involving a harem to continue for long after things have been settled. This show did, and quite well. Episode thirteen's "duel" and graduation scenes were powerful and well-executed.
Tytania:  Hyulick is getting serious,  it seems. The show continues to provide a balanced dose of palace intrigue and action; hopefully the outcome of all of the buildup turns out to be worthwhile.
Tales of the Abyss: Mostly the same as it always has been. Now that all of the party's personal background stories seem to have been covered (pretty well, might I add), it appears to be time to save the world. We haven't been treated to any awesome high-budget combat scenes in a few episodes, so hopefully some of those are soon upcoming. Fantasy adventure shows have an uncanny tendency to have underwhelming endings; time will tell if the same is the case here.
Toradora: It's starting to drag. There's not much else to say, really, since not a whole lot has been happening. The arc with Taiga's father should have been told and wrapped up more quickly.
Gundam 00: This show is pushing my ability to suspend disbelief, and I can't say I enjoy the return to the LET'S SING FOR PEACE! formula when it doesn't involve, say, May'n.
Macademi:  Still funny; therefore, still good. The couple character development episodes recently weren't bad, either.