Buy Celexa Online
Phentrimine Without Prescription
Celexa No Prescription
Ultram For Sale
Elavil Generic
Buy Glucotrol Online
Lotrisone Without Prescription
Toprol XL No Prescription
Cipro For Sale
Lipitor Generic
I'm sure all of you watching Clannad through episode eighteen are already well aware that the episode was definitely something special. Owen has already done a darn good job of covering its merits as far as realism and content, so I'll be focusing on what made the last few minutes of the episode so effective as far as formal elements and how they emphasize the content.

One of the few times in which I disagree with KyoAni's choice of "camera" angle.
The scene begins with Tomoyo continuing to improve her public image, exchanging a handshake with her opponent before the match in a show of sportsmanship. The next shot is somewhat amusing: Sunohara is lamenting that Tomoyo isn't playing against another girl, while all of the spectators displayed on-screen are male outside of Nagisa (with one of them smiling, likely in a similar train of thought to Sunohara's). This bit will turn out to be a sort of "calm before the storm."
As the match gets underway, naturally Ryou peeks over and sees Tomoya and Nagisa watching, seemingly enjoying each others' company at least as much as the match itself. The last shot is mostly likely directly from Ryou's POV, but even if not, the emphasis is quite clearly on Tomoya: not only are the background characters blurred, but not much of Nagisa's face is visible and her eyes are closed, and so the viewer's eyes are naturally drawn to Tomoya's. Kyou notices the situation and begins to move towards the couple, but Ryou stops her. Look Ryou's facial expression– she's pretty clearly already conceded the game at this point. She then tells Kyou, "The match has already started." She's ironically talking about a match starting in the very same breath as conceding her own "match" with the other girls for Tomoya's affection! Well-done, KyoAni.
And now it's Tomoyo's turn. After politely declining an offer for a drink, Tomoyo mentions to Nagisa that she remembers having met before, and she replies that she's trying to reestablish the theater club. Her eyes grow wide, as with that tidbit, all of the pieces fall into place in her mind. She makes what I think is a wonderfully complex and realistic expression: eyes half-closed to show that she's certainly not pleased, but that smile and her commenting "so that's how it is" demonstrate that she has already accepted Tomoya x Nagisa as the reality of the situation. This point is then masterfully hammered home: she shows that she's accepted this and ready to move on by getting right up to continue her match, walking past those who don't seem quite as ready to move forward.
The viewer is then treated to a montage that reinforces what's happened over the past couple of minutes: Ryou and Kyou with their eyes pointing down, Tomoyo looking forward, and, to drive the nail in farther, Tomoya and Nagisa looking at each other..
And then, after all of this buildup, the climax of the scene comes in and dispels any remaining doubt that Tomoya is interested in Nagisa alone (even if he himself doesn't realize this yet). He reacts intensely when Nagisa gets hit. I love how this shot manages to make its subject the couple Nagisa and Tomoya, rather than being about the two characters. Similarly to before, the eye is naturally drawn to Tomoya since only his eyes are open, but in this case there is a very strong implied line from his eyes to Nagisa which soon becomes an implied line in both directions as Nagisa begins to speak. Then there's THE BLOCK, and at that Kyou, Ryou, and Tomoyo all let out a gasp– they know now, for sure, the futility of pursuing Tomoya's affection.
In the wake of that is a series of facial expressions out of Kyou that is nothing short of absolutely superb– powerful, convincing, and emotional. There is an excellent progression reflective of the thoughts going through her mind: shock -> denial -> grief. Ryou joins her with tears of her own. As is befitting of her character, Tomoyo shows no tears and instead looks upward; I get the impression of her thinking something like "Well, I guess that's it."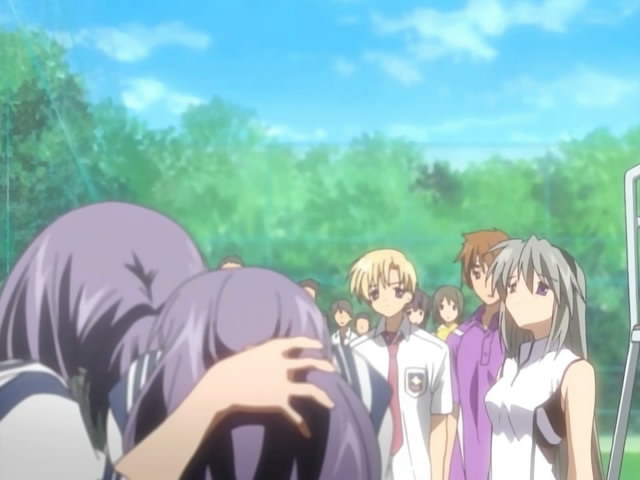 All of this, on top of the amazing voice acting and a perfectly-fitting, powerful insert song playing in the background, makes for one of the most memorable single scenes in recent memory.