Buy Celexa Online
Phentrimine Without Prescription
Celexa No Prescription
Ultram For Sale
Elavil Generic
Buy Glucotrol Online
Lotrisone Without Prescription
Toprol XL No Prescription
Cipro For Sale
Lipitor Generic
This is another ABC (Apologists on Behalf of Crap Anime Blogging Collective) post. Other posters include Mike, Karura, CCYoshi, Martin, Hige, J. Valdez, Xerox, and Owen S.
We anime bloggers are all still, in the end, human beings. We are prone to bias, make generalizations, succumb to or at least are influenced by peer pressure, put placebos on ourselves, and simply make mistakes in general. In addition, perhaps most notably, it is possible - perhaps even expected - for our opinions to change over time. I am no exception to any of these cases. In this assessment of the fall season, I'm going to take a look at my initial impressions of a number of series and compare them to what I think now. (Since this post is all about me, I guess this makes me an elitist.)

I still don't know whether I envy or pity Sunohara.
Clannad
Initial Impression: Going in, this was supposed to be the season's heavy hitter– I don't think anything could draw more attention to itself than a Key adaptation by KyoAni right now, save for something involving Haruhi. Personally, though, I wasn't so sure– I've never played the game, the genre is pretty hit-or-miss for me, and the Key track record was 50/50 to me, as I disliked Air but enjoyed Kanon. The first couple of episodes were pretty solid, as the characters seemed interesting and the overall execution was, as expected of KyoAni, quite superb.
Current Impression: It's solid. The show manages to be consistently entertaining on a weekly basis. I can't say Fuko's story arc really did much for me, and the pace of plot advancement is a little on the slow side (though this being a two-cour show makes the slower pace forgivable). Overall, it's going strong, and I don't foresee dropping this anytime soon.
Genshiken II
Initial Impression: "It's freakin Genshiken. Of course it's going to be awesome."
Current Impression: Meh. It's kind of entertaining, but for some reason it's not really doing much for me.
Shugo Chara
Initial Impression: N/A. I hadn't even heard of this show until the first episode came out, and so I was completely "clean" going in. I loved it from the first minute.
Current Impression: It's still COOL AND SPICY, but I kind of wish that things would move along a little more quickly. I guess it's a faint hope, considering the show's obvious target audience
Myself; Yourself
Initial Impression: I hadn't really heard much about this before it aired, other than that it was a vnovel adaptation (which doesn't really say much). The first couple of episodes were mildly entertaining, but overwhelmingly conventional for its genre in pretty much every way.
Current Impression: The hints towards dark pasts that started to appear have grabbed my attention. This writer executed a similar method of slowly revealing hints and secrets with supreme expertise in Ever17; if he can do half as well here, I will be satisfied. With this sort of placebo in place, I continue to watch this despite not having been especially impressed with the series so far.
Gundam 00
Initial Imperssion: "Oh no, it's apparently going to be like Gundam Wing. Oh no, superpowered Gundams. Oh no, WHAT THE HELL IS UP WITH THESE NAMES?!"
Current Impression: Somehow, despite all of the misgivings of my impression of this show going in with the addition of a totally absurd few-hundred-years-from-now political situation, I've somewhat enjoyed watching this every week. Maybe they've just done that good a job with the animation, music (as in soundtrack music, the OP/ED are pretty underwhelming to me), and other production values. If nothing else, HD + lots of explosions is bound to be fun to watch. I still have no idea where they're actually going to go with the show plot-wise, but it's looking like we'll find out soon enough.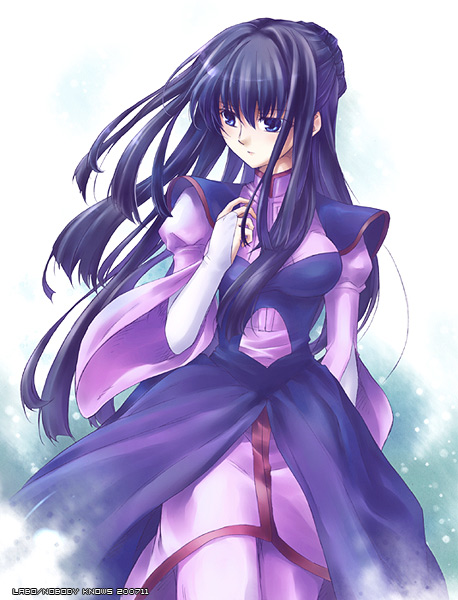 "Damnit, I'm supposed to be the obligatory moe character, now that whore Wang! I'm the freakin' Lacus clone! I need more screen time :("
Night Wizard
Initial Impression: I really had no idea what to think of this going in; it seemed like something that could be good if it was treated more maturely than other recent fantasy shows Nishi no Yoki Majo and Deltora Quest were; my "ideal" for this show was for something like Scrapped Princess minus the royally botched ending.
Current Impression: Despite - or perhaps as a result of - this show not taking itself all too seriously, it's pushing all of the right buttons and providing a most entertaining watch. Moogy noted in IRC that watching this show feels like experiencing the storyline of a JRPG without having to actually play a game; Night Wizard does indeed perfectly capture the feeling of such games.
Minami-ke
Initial Impression: This will be an entertaining but not especially noteworthy slice-of-life series. Slice-of-life isn't really my cup of tea; if it was, I think I will probably like this a lot.
Current Impression: This is an entertaining but not especially noteworthy slice-of-life series. Slice-of-life isn't really my cup of tea; if it was, I think I would probably like this a lot more.
Bamboo Blade
See Minami-ke.
Kimikiss
Initial Impression: Yet another bishoujo romance show this season, but this is directed by that Honey & Clover guy. Who knows.
Current Impression: Yawn.
Dragonaut
Initial Impression: This show has all sorts of things going for it– an all-star voice cast, what looks like a fairly high budget, and a fairly interesting science fiction premise in the midst of a million bishoujo romances. However, it's all of these advantages going up against the only studio capable of screwing it up: GONZO.
Current Impression: GONZO wins. (And by that, I actually mean that GONZO loses, because the show sucks.)
ef - a tale of memories
Initial Impression: This show looked promising going in; it looked quite promising judging from the early trailers and stuff. Then the first episode aired, and the excessive number of unnecessary and distracting visual effects turned me off.
Current Impression: I've already written three thousand words on my current impressions. This series could very well turn out to be the best show of the season; it's certainly the most interesting one right now, if nothing else. Episode seven was amazing.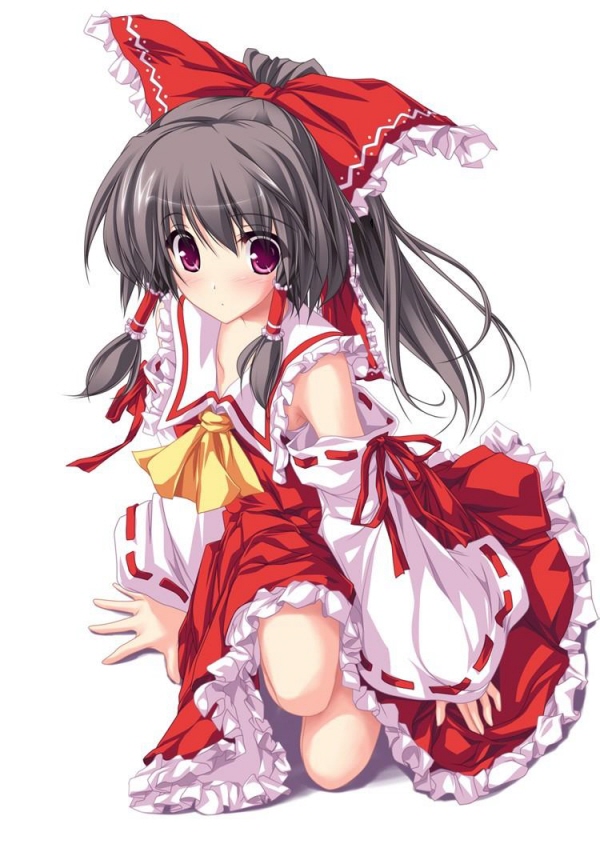 It might not be as good as an actual Touhou animu, but the reference in ef is a sign that we're getting there!
Meh. I kinda wanted to elaborate a bit more, but the due date for this was early the day after Thanksgiving. Oh well.