Buy Celexa Online
Phentrimine Without Prescription
Celexa No Prescription
Ultram For Sale
Elavil Generic
Buy Glucotrol Online
Lotrisone Without Prescription
Toprol XL No Prescription
Cipro For Sale
Lipitor Generic
This is part of an ABC group discussion. Other participating blogs include: Cruel Angel Theses ♪, Anime Diet, tsuntsun, Drastic My Anime Blog, Daijoubu, and Heterochromia.
—–
This is probably obvious to most of you, but two nearly universal truths about Japanese animation are:
1. The primary purpose of its existence is, above all, to generate revenue.
2. They're Japanese, and thus the various things that make up an anime series are naturally often going to reflect Japanese culture in some way.
Pretty much everything about any anime series can probably be explained by one or both of these ideas, including the gender roles commonly found in anime series. I'm going to go over a few gender-related common anime conventions, though the list will certainly not nearly be exhaustive (not sure that's even possible).
1. Fanservice (in this case, referring primarily to the sexual variety), ecchi, moe, etc.
These are, of course, to a large extent found in anime simply because sex sells– an attractive character is sure to sell a large number of figures, posters, and other merchandise, as well as be an excellent means of drawing viewers to a series through advertisements and trailers. But is that really all there is to the presence of these things in anime?
As you may or may not be aware, Japanese culture is in some ways more sexually open than that of the West due to not having had a history of Christian cultural influence, but in other ways more repressed than Western sexuality. Of particular note is this tidbit taken from a study of sexuality in Japan: "Japanese youths, both male and female, show a remarkably slow development in sexual behaviors in comparison to other societies. The most probable reasons behind the slow psychosexual development lie in…the society's strong respect for education, which results in suppression of sexual behaviors among the youths." Because the target audience for much anime is generally the school-age male (of course, this is a broad range covering everything from middle school to graduate school), having large numbers of attractive, scantily-clad females their own age provides an outlet for their sexual desires that often are impossible to otherwise satiate due to the time consumption of other activities.
Another noteworthy finding from the same study: "such interest in the other sex among the girls is more mental and fantasy-based." Perhaps this is why yaoi relationships in anime tend to more often be implied rather than explicit, and why yaoi fan fiction is such a huge part of the fandoms of series like Naruto and Gundam Wing. It's certainly possible that these relationships are implicitly hinted at to provide young girls the same sort of outlet that males are given through more clearly visible sexual content.
It's also interesting that, in anime, it's always females vying (and even fighting for) the attention of their male crushes, when in reality the opposite tends to be the case. I don't think there's much behind this other than trying to appeal to the fantasies of the young male audience, though.
2. Domestic vs. professional female characters
While most of what I've read on the subject suggests that this is beginning to change, it is still widely believed in Japan that the role of the wife in a family is to be a domestic housewife and mother. From what I've seen in anime, it tends to be the case that married women have a tendency to be of the more domestic type, though there are certainly numerous exceptions as well. It's also common for being proficient with home economics to be portrayed as a desirable trait for female characters, whereas males doing such tasks is rather scarce. This being the case is again most likely a result of trying to sell characters to specific target audience– your growing Japanese male probably wants his "dream girl" to be more of the submissive housewife type. At the same time, it reflects and perhaps reinforces the still-widespread view of how women "should" be.
That active mothers being mare common in anime than active fathers is a result of just trying to get more boobs on the screen to appeal to the young male audience is also possible, in addition to reflecting realities of Japanese society. (Insert MILF joke here.)
Within series that involve some sort of military organization, highly-ranked females such as officers and scientists are found in some abundance. While this is in a way empowering to them, it must be pointed out that in a sense this actually reinforcing the idea of the female's maternal role: they are acting as mentors, lending medical or emotional support, and taking care of the home front while they send the male lead characters off into the battlefield to do the dirty work.
3. Firearm proficiency.
This is an easy one, really. How many girls/women you know in real life have any idea how to handle a firearm? Sure, there are female police officers and military personnel with competence in this area, but they are vastly in the minority. Yet, in anime, there are numerous examples of females (including little girls) being highly proficient with guns. Unlike the previous two items, this isn't at all reflective of a culture reality and instead seems to purely be a conceived fantasy. Not that there's anything wrong with that or anything, of course– I've enjoyed several good "girl(s) with guns" series. I am in the target audience, after all.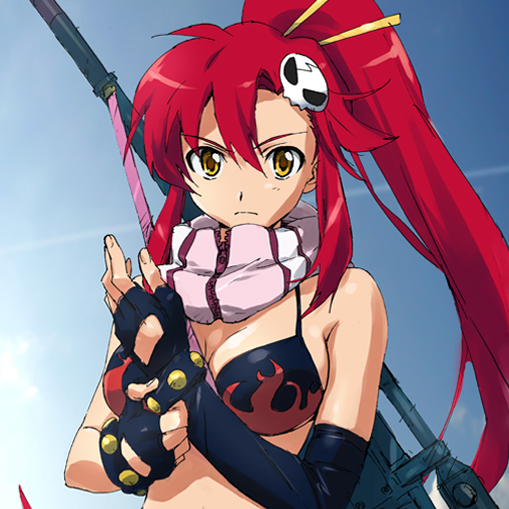 Part of Yoko's widespread appeal is that her character possesses elements from all three common female character conventions as described above, which are all intended to appeal to males.
That should be enough food for thought for now.